Since not everyone I know follows Bloom Fitness Studio's Facebook page, I thought I'd share our most recent blog post here... since well... I wrote it... LOL
Check out Bloom's website & all of our blog posts right here.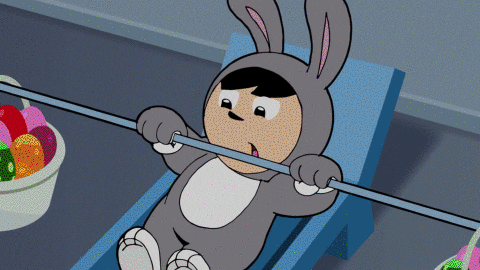 It's already the middle of April, and Easter weekend is here! 
Traditionally for some this might mean jelly beans, the Easter Bunny, dying eggs or wearing a sundress & a bonnet (and usually in Missouri...that's likely with a winter coat over it). 
In Biblical terms, it means that HE is risen... that death leads to LIFE. 
Whatever Easter means to YOU though, this can be a great time to decide to RISE UP in your life.  This might mean physically rising up in a literal way, but it can also be in an emotional or spiritual way as well depending on what you're feeling or experiencing in your own life right now. 
What is necessary for you as an individual though, will likely involve doing something different in your life... to let go of the past, to let go of what was, to shed the old and make room for new... a rebirth of YOU, so-to-speak. 
What are some of the ways you might consider RISING UP?  And what does that even mean?
Think of this as a time of TRANSFORMATION... a time for dramatic CHANGE in form... a time to let things DIE that no longer serve us well, so that we may become the best versions of ourselves!
If you think of things in nature with reference to Spring... plants, trees, and flowers have to shed the old to BLOOM or come ALIVE again and show it's new beauty.  Can you imagine if trees didn't lose their leaves or if we didn't prune plants?  It would actually INHIBIT growth.  It would inhibit new life and the ability to begin again.    
Every day that you wake up and breathe, you have the opportunity to RENEW your life.  You have the opportunity to TRANSFORM yourself by making different choices that will serve you better. 
We are here in this life to THRIVE not just survive.  We are here to GROW, not to remain the same. 
It's very easy to SAY you want to make changes.  But are you willing to do the WORK in order to make it happen?  It's a choice we have every single day.  And every single days presents us with the opportunity to transform, no matter what challenges we might be facing.
What do you want to create in your life?  What are you willing to give up to make that happen?  What can you allow to DIE in order to create space for your own transformation?
You have to GIVE UP to RISE UP. 
Here are some ideas to get you thinking about your own renewal...
1.  Master your mornings.  RENEW your mind daily.  The ONLY way to make changes is to be purposeful about it every single day.  Our days are better served when we begin them first thing with positivity.  Rather than immediately checking out social media and seeing what everyone else is up to in their life... how about taking some time for YOU instead. You might consider meditation, visualization, writing in a journal, reading & learning something new or watching an inspiring video.  What are the things you want to accomplish today?  Write them down & feel the joy in checking those things off your list as you complete each task or goal. 
2. Wake up earlier.  Your days can be more productive if you wake earlier and get your body moving with some exercise.  While it might seem that you'll feel tired that day from waking earlier, that workout will actually GIVE you more energy for your day ahead.  Consider also going to bed earlier at night to accommodate for this.  Sleep matters just as much as movement. 
3.  Shed some of your unhealthy eating habits.  No, you don't have to perfect everything in your life overnight, but deciding to remove one unhealthy habit at a time can go a LONG way.  Start by removing one unhealthy thing today.... maybe it's soda or your daily Starbucks... and replace it with something healthier... like more water.  Your body is meant to feel good and to thrive, but it needs the right fuel in order to do so. 
4.  Schedule some time for YOU.  Granted we don't always have the extra money to spend on ourselves for things like massages or manicures, but carving out some free time for you to read, write, get crafty or take a walk around the neighborhood, can make you feel just as rejuvenated and pampered. 
5.  Prep for your week ahead.  This might mean mapping out your week on the calendar or taking Sunday evening to prepare your meals for the week in advance.  A little extra time prepping can save you a lot of time and stress during the week.  And when it comes to meal prepping, you're setting yourself up for more success when you pre-plan with healthy options!
6.  Get honest with yourself & others. Do you find yourself saying yes to things you really don't have time to do?  Or over-committing yourself because you feel guilty saying no?  Remove the F.O.G. from your answers to others... and ask yourself if you're agreeing to do something out of FEAR, OBLIGATION or GUILT.  Ultimately, you're only doing yourself a disservice when you say yes, but you really want to say NO.    
7.  Instead of saying no, say YES.  Do you find yourself saying no to things you're afraid to try?  Do you worry that you'll look awkward in a class at Bloom, for instance?  Have you ever caught yourself saying,  "I can't do that... I don't have rhythm... or that's not me."  This is a great time to shed those fears and do something outside your comfort zone.  Remind yourself that we were ALL once beginners. 
8.  Garbage in, garbage out.  What are you focused on? Where are you putting your energy?  Who are the people you're surrounding yourself with most of the time?  If you surround yourself with toxic energy, guess what you'll be fueled with.... toxic energy.  Change what you're feeding your mind, body and soul.  Maybe that means less social media time... maybe that means a new circle of friends... maybe that means more time at the gym and less time in front of the computer or TV. 
These are just a few ideas to get you started.  And how we choose to RISE UP is individual for all of us. Ultimately though... it's up to YOU to create the right conditions for your own GROWTH.  It's up to you to not inhibit transformation in your life.  It's up to you to step out of what you've deemed a comfort zone. 
Rise up and attack each day with enthusiasm. 
You've been given one life, but you have the opportunity daily to begin again and flourish.  And you are worth it!!
Happy Easter, Bloomsquad!  We are so grateful for you and want to help you continue to become the best versions of yourselves possible!  ♥
Reminder that we are closed on Sunday, but we'll be back at it full force on Monday!!